The End Of Radio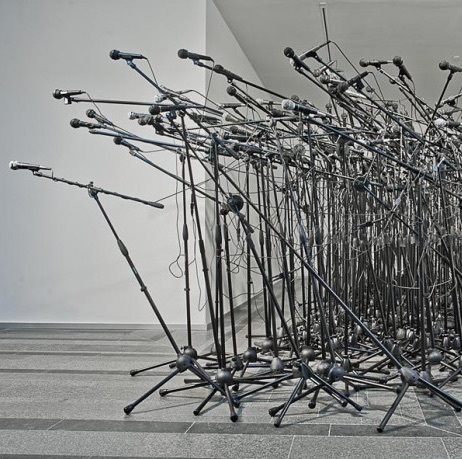 IDEA: Reverse the sound of a social and political context.
WHAT: An audio installation consisting of nearly two hundred microphones on stands, which send out signals instead of receiving them. The energy of the recordings from a street survey, which the artist used for the installation, has been preserved, even though the sound has been transformed so much that you can only hear interference or individual words. The title has been borrowed from a song by the band Shellac which poses the question whether transmission is still possible without any listeners.
WHY: This reversal of the primary function of the microphone alludes to the increased emission of signals which are more and more difficult to assimilate.
BY: #KonradSmolenski
VIA: #MakingWaves blog by #SOLOMusicGallery
#SoundArt #SoundInstallation #ArtInstallation #ContemporaryArt #ConceptualArt #FreeSpeech #Politics #InstallationArt #Microphones #power