Audio Foam Cutter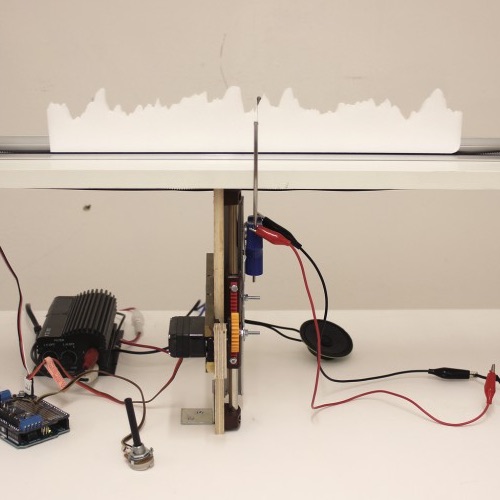 IDEA: Real-time three-dimensional representations of sound.
WHAT: The Audio Foam Cutter transforms sound into styrofoam. A hot-wire cutter mounted on a servo motor which is controlled by audio signals, allows users to real-time cut the sound input vertically into the material. The resulting cutouts can be used to assemble casting molds or they can stand alone as sound sculptures.
WHY: A fully analog and kinetic way of sound visualisation.
BY: #ReinhardGupfinger 's #SoundShifting project.
VIA: #MakingWaves blog by #SOLOMusicGallery
#AudioFoamCutter #SoundArt #MusicSculpture #SoundSculpture #AudioVisualisation #ContemporaryArt #TechArt #InstallationArt #FoamCutting #3D