Circuit board album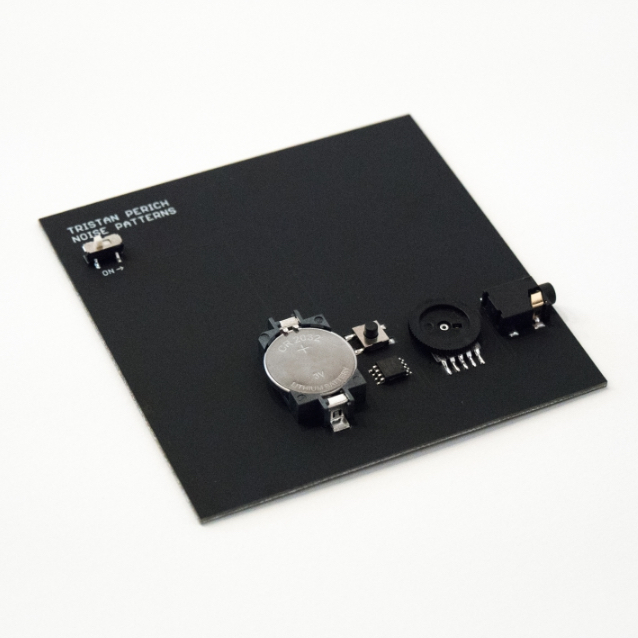 IDEA: A functional 1-bit electronic circuit board album.
WHAT: 'Noise Patterns' comes as a minimalist matte-black circuit board with a headphone jack in the side. Plug in and switch it on, to listen to Perich's music unfold. The 6-track album explores how digital noise can be shaped and stressed, from glittering static into the mesmerising electronic thump of a nightclub. On a technical level, the sonic raw material is digital 1-bit noise: a probabilistic density of random oscillations that Perich sequences into rhythmic patterns and layers into textures, pulses, rumbles and beats. These sounds are his very own, programmed by the artist and synthesized in real-time as the circuit plays. In 2009 Perich released '1-Bit Symphony', which was the first circuit album release, 'Noise Patterns' is his second.
WHY: It digs into the primitive particles of digital 1-bit audio that has become Perich's signature sound. The physical format reveals how Perich engages music at all levels, from sound all the way down to the binary instructions of the hardware.
BY: #TristanPerich Release Date: July 22, release show: June 23 at (le) #PoissonRouge (NYC), with #RobertHenke, #KarlLarson and #RicardoRomaneiro. For info and tickets click here, pre-order here.
VIA: #MakingWaves blog by #SOLOMusicGallery
#SoundArt #Noise #ContemporaryArt #OutsiderArt #TechArt #MusicInstallation #MusicSculpture #InstallationArt #NoisePatterns #1bit
A video from 2010 where Perich explaining the process of his first 1-Bit Symphony album: