Sound erosion at group show in Istanbul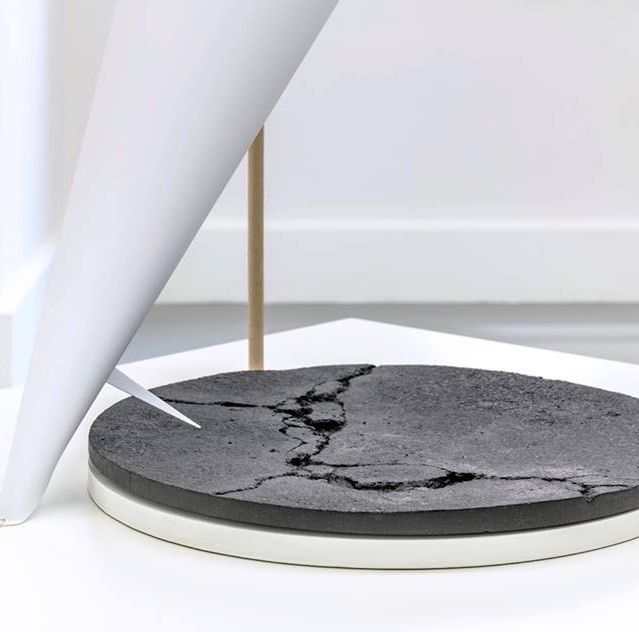 IDEA: A collective exhibition questioning the act of falling.
WHAT: A group show titled 'Not All That Falls Has Wings'. VOID's resin discs are molds taken from the gallery architectural surface (floors, walls, ceilings) and its surroundings. The site specific installation 'Bruit Blanc' is an attempt to read all the sounds that every surface has absorbed during its history, starting from the idea that sound leaves traces of its interaction with every material by a natural phenomenon of sound erosion. All these sounds draw a picture of the place's acoustic history: a sound archaeology of the space.
Next to the work of VOID, the exhibition brings together works by Bas Jan Ader, Phyllida Barlow, Cyprien Gaillard, Ryan Gander, Mikhail Karikis and Uriel Orlow, and Anne Wenzel. The exhibition is curated by Selen Arslan.
WHY: It draws attention to gravity and falling in contrast to the concept of rising to, and aiming for the sky, which is prevalent throughout history. Provided that all falls and keeps falling, the movement here points to a shared condition that ties the destiny of a dust particle, with that of a word on the tip of a tongue.
BY: #VOID at #ARTER, open from June 9 untill 18 September, 2016 Tuesday to Thursday between 11.00 - 19.00 Address: Istiklal Caddesi No: 211 Beyoglu, Istanbul, Turkey.
VIA: #MakingWaves blog by #SOLOMusicGallery
#NotAllThatFallsHasWings #SoundErosion #ContemporaryArt #SoundArt #History #Gravity #BasJanAder #PhyllidaBarlow #CyprienGaillard #RyanGander #MikhailKarikis #UrielOrlow #AnneWenzel #SelenArslan